Sleep Apnea Pillow
Something as simple as a sleep apnea pillow can significantly increase the effectiveness of your CPAP(continuous positive air pressure) treatment. Many people don't use their CPAP equipment properly or discontinue use because of irritation or discomfort at night. A specially designed pillow can make all the difference.
What's Special About a Sleep Apnea Pillow?

In a word, the design. Standard pillows weren't designed to support your head and neck in a way that keeps your airways open or accommodate your CPAP mask and hose. This is why it can be difficult to keep the mask on properly during the night.
Loud disruptive snoring generally results from a blocked throat or airway and isn't helped by your a standard pillow. Rubbing or slipping masks and annoying leaks can lead to frequent awakenings, making many people give up on using CPAP machines. Given the serious, and proven, dangers of sleep apnea, this is concerning.
Pillows for sleep apnea come in a variety of styles, shapes, and materials. Yet, they all have one thing in common: they are specifically designed to provide excellent head support, along with contours that allow you to comfortably use your CPAP equipment. Hollow areas lessen pressure from your sleep apnea mask and can help prevent air leaks from your mask, as well. 
A pillow designed to accommodate a CPAP mask and hose will usually be multi-positional, allowing you to sleep comfortably on your back or on either your right or left side. The contoured shape of the pillow provides support for your neck and head, as well as facilitates proper airway alignment and better spine alignment.
You'll also be able to find a pillow that appeals to your individual preference, since pillows are manufactured with different types of fillings and range from soft to firm.
So if you've been diagnosed with sleep apnea, you may want to seriously consider purchasing a specially designed pillow so you can fully benefit from your CPAP therapy - while enjoying restful sleep night after night.

Related Information - Sleep Apnea Pillow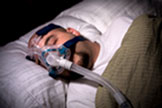 Causes of Snoring
How To Stop Snoring
Snoring Cures
Snore Pillow
What Is Sleep Apnea
Sleep Apnea Treatments
Sleep Apnea Machine
Better Sleep Better Life HOME

›
Anti-Snore Pillow
› Sleep Apnea Pillow