CPAP Pillow

Benefits and Buying Tips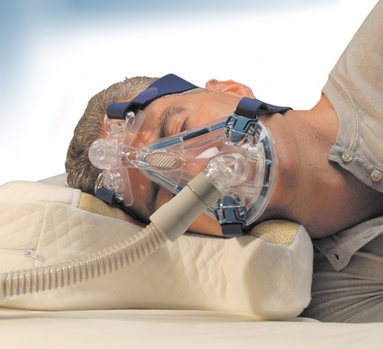 A CPAP pillow is a beneficial sleeping aid that is used in conjunction with CPAP equipment to help sleep apnea sufferers feel more comfortable at night and benefit from better sleep. 
Sleep apnea pillows help alleviate pressure points and sores caused by wearing a CPAP mask and using a standard pillow. 
Many CPAP users complain that it is difficult to sleep comfortably and soundly because the mask may shift during the night when changing sleep positions. This may cause discomfort and air to leak from the mask, compromising sleep and the effectiveness of continuous airflow therapy.
Sleep apnea pillows prevent your mask from being displaced when you turn on your side or back during sleep. In addition to minimizing air leaks from occurring, additional benefits of using the pillow with your CPAP machine include the following:
Reduces the pressure that mask puts on face
Provides head and neck support
Improves alignment of spine and airway
Maximizes the CPAP machine's effectiveness
Using a special pillow with your CPAP machine will also prevent your back, neck, and side from becoming stiff because it allows you to change sleep positions with greater ease throughout the night.
In addition, the pillows are easy to care for and you can typically wash them with your clothes and linens. They are made with durable materials and do not flatten as easily as regular pillows.
Sleep apnea pillows are ergonomically designed and come in a variety of shapes, sizes and styles. Many of these pillows feature indentations on each side, allowing space for the host to be positioned when you sleep on your side.
Some say the drawback of these pillows is that they are often made with medical-grade foam, which can be more stiff and uncomfortable. As a result, a CPAP pillow may take some adjustment time. The majority of styles are compatible with all brands and models of CPAP equipment so finding a pillow suited to your particular machine should be easy.
About Sleep Apnea Machines
Buying CPAP Equipment Online
CPAP Supplies
Sleep Apnea Masks
Better Sleep Better Life HOME

›
What is Sleep Apnea
› CPAP Pillow